Carbon Steel Burnt Dagger TC-51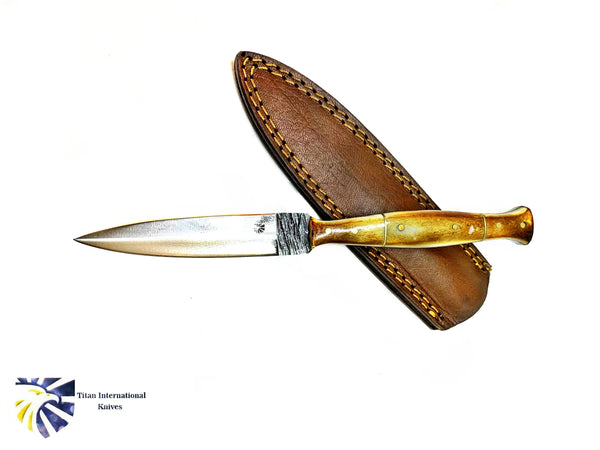 Titan International Knives Boot Knife / Dagger Knife is hand crafted to near perfection. This Gamblers Dagger / Boot Knife has well over 25 hrs of work invested into it, including; forging, filing, fitting, grinding, polishing and more polishing. The Dagger has Burnt Camel Bone with Brass Liners. It's a full tang knife robust design. Impressive workmanship that will turn heads. Light, rightly sized and beautiful art that is meant to be put to use. Comes with a leather sheath that grabs the Dagger with a snug fit and the belt loop in the back.

Overall Length = 8.25"
Blade Length = 4.00"
Handle Length = 4.25"


High Carbon Steel 1080 HC. We oil quench and water quench temper to a hardness of 56-58 Rockwell C. Some of the many steel advantages include the following: Blade edge resistance from the harder steel.

Maintenance Recommendations:
- Store in a dry environment and NOT in the sheath for a long period of time to prevent rust.
- Oil or use Flitz polish to keep the shine and prevent the blade from rusting
- To sharpen use 18 - 22 deg angles or finer grit stones to hone the edge