Damascus Titan Terrain- Damascus Steel knife/ Full tang/ Drop point TD-302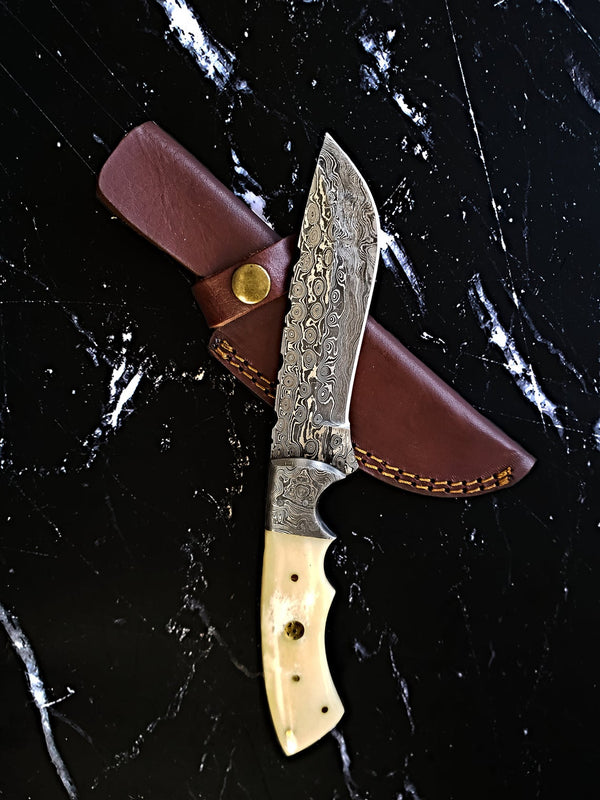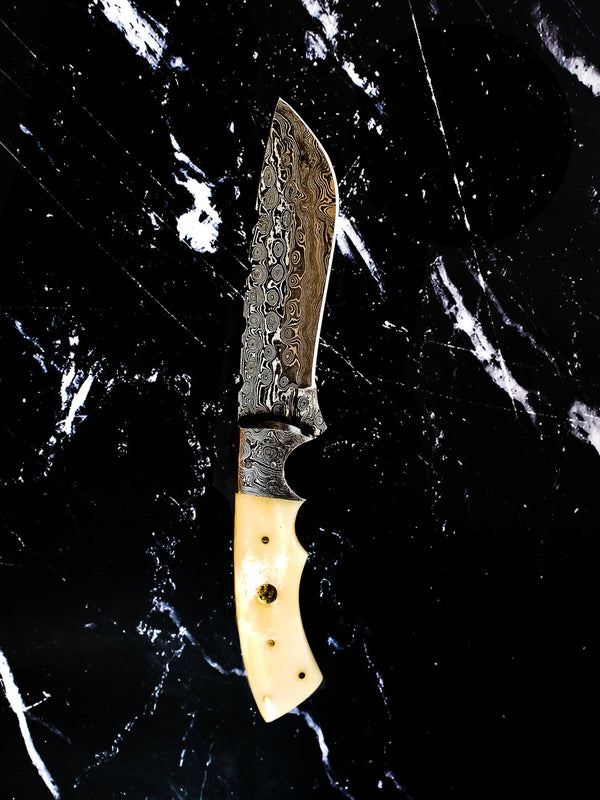 Titan Terrain can handle just about anything from carving netting needles and trap triggers, to chopping through branches, the Titan Terrian Knife will do just about any chore that you can throw at her to survive and thrive out there in the wilderness.
SIZE & MEASUREMENTS:
•Overall length is 9.8"
•Blade length is 5"
•Blade thickness is 2.5mm
•Handle material: Camel bone
ATTRIBUTES & FEATURES:
【HAND FORGED DAMASCUS STEEL】 Manufactured with ultra-sharp hand-forged Damascus steel cutting core at HRC58-60 hardness, the knife comes with unrivaled performance and incredible edge retention; Damascus steel outperforms high carbon steel in durability and is easier to sharpen as mix of high chromium steel enhance the other alloying elements.
【ERGONOMIC & WELL-BALANCED】 9'' and Full Tang blade is hefty and compliments the handle in maintaining balance and helps to alleviate fatigue and pains on your fingers after use with comfort while providing you with the perfect blend of performance and comfort.
【ULTIMATELY DURABLE HANDLE】 The meticulously constructed handle has gone through special treatment, making it extremely impervious to heat, moisture, cold with military-grade strength and life-long sturdiness; multiple times riveted for extra resilience,
【SUPERIOR SHARPNESS】 Ruthlessly sharp edge is handcrafted by seasoned artisans to a mirror polish at 12-15° per side using the traditional 3-step honing method; Nitrogen cooled for ultimate hardness, flexibility, and performance.
【LIFETIME WARRANTY】 No premium knife is complete without a lifetime warranty; our masterpiece knife is fully covered for life, free exchange or return for life if the item is defective.
This knife looks great in the sheath or on a belt making it easy to retrieve. It has the perfect sharpness to make your everyday utilitarian tasks an enjoyable experience.
Perfect for hunting, fishing, hiking, camping, boating, backpacking, or any other outdoor adventure. It is also a key item to add to your survival tactical gear!
HAND FORGED DAMASCUS BLADES:
Damascus blades are hand forged through a process of layering, melting and hammering. This results in each blade having a unique design or as some would say a "fingerprint". Each & every knife is truly one of a kind.
Damascus steel has outstanding properties of strength and hardness. We amplify its properties by oil quenching it at 2100 deg F to cool it down fast and we do it twice to make sure it's hard to its inner core to withstand any kind of work you may put it to use. It achieves a 58 or higher HRC on the Rockwell Scale.
Producing Damascus steel is still unknown to this day, the process has been lost over the past 500 years. Today, we layer & hand forge two different steels 15n20 & 1095. It is then dipped in Ferric Chloride creating a distinct reaction with the metals producing a Damascus like pattern.
SHIPPING:
Ships within 1 business day. I use USPS First class Mail for shipping in the USA. Free shipping IN USA ONLY.
International shipments will go USPS First Class unless you upgrade to USPS Priority.
** Custom Import duties may apply**
**Our shipments are packed and sent in perfect condition. If you're concerned about damages while in transit please purchase USPS priority ensuring the safety of your packages. **