Hand forged Damascus Knife Neck Knife TD-233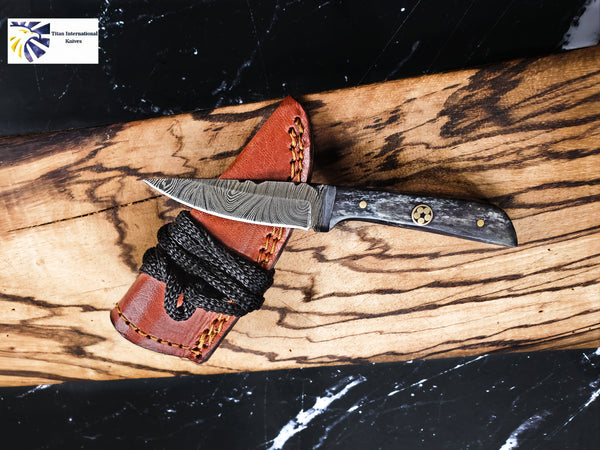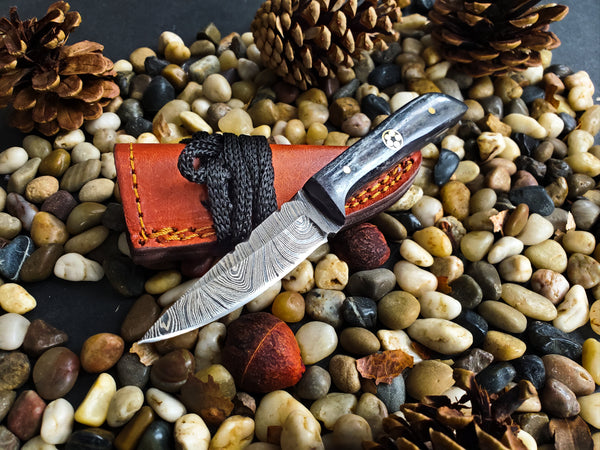 Blade Detail
HANDMADE STEEL DAMASCUS HUNTING KNIFE - Blade is Hand Forged with 1095 & 15N20 High and Low Carbon Steel with over 300 Layers.These two alloys are folded together many times, then dipped in Ferric Chloride which eats away at the different metals at different rates showing the Damascus pattern. This is genuine folded steel, not laser printed. 
Scores a 58 HRC on the Rockwell Scale - This metal is tough and ready for work. Creating Damascus steel is still unknown to this day. The process has been lost for the past 500 years. Today, we fold several different steels together, dip in Ferric Chloride which eats away the metals at different rates to show the Damascus pattern.
Comes with genuine leather sheath
Free shipping! 
These knives wont last long! 
Pre-Made and ready to ship in 1 business day! 
Handle Detail 
Dyed BONE HANDLE - FULL Tang - designed to fit perfectly in your hand, this golden grip easily balances in your hand. The handle has been sealed with a clear coat polyurethane to prevent cracking or drying out and to preserve the handle for as long as possible. 
Size and Measurements
Overall length is 11" 
Blade length is 7"
Blade thickness is 4.0mm
Comes with genuine leather sheath 
Blade size: 3.1 inch 
Overall size: 6 inch 
Handle material: Dyed bone 
Recommended Knife Maintenance: 
Sharpening: Can be performed with any system, recommend the use of oil on 22.5deg fixtures
Surface treatment: Recommend that the knife is not kept in the sheath and in dry environment. In case rust develops, remove with steel wool or 3 M 1000 grit pads with oil and use metal polish to prevent from reoccurring.