Handmade Damascus Folding Pocket knife Karambit Knife Hunting knife Handle Camel Bone Handmade Damascus Steel with leather Sheath A-111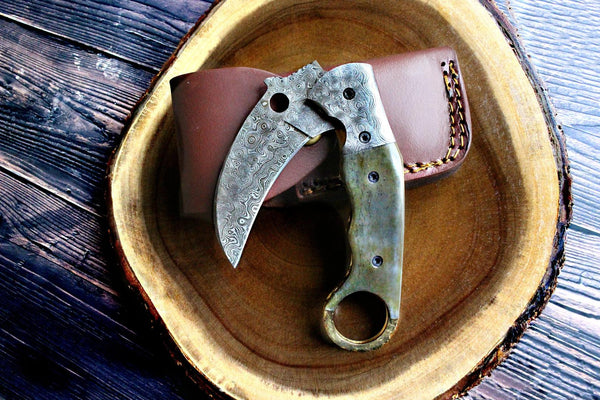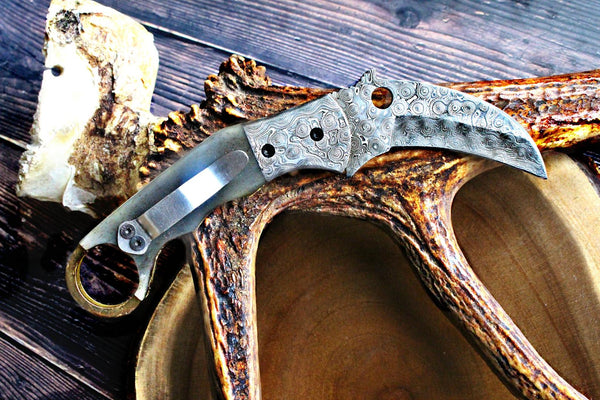 Damasucs Steel, Dyed Bone Handle with Clip, Leather Sheath
Rain Drop Damascus Folding Karambit with Wave style hook for faster access. EDC Tactical Blade.


OVERALL SIZE - 8.5"
Blade SIZE 3.5"
HANDLE SIZE 5.0"

This Damascus karambit folding knife is perfect for every day carry! The wave hook on the top of the blade allows you to deploy the blade as soon as you pull it from your pocket (Please watch the video for a how tutorial on how to take advantage of this feature). You're going to want to show it off, so you may want to get it engraved with your name so it doesn't walk off on you! It even comes with a leather belt sheath to lighten the load on your pockets...

Disclaimer: These are knives. They're sharp. Make sure what you're cutting is food, not fingers. You don't want to have to learn a new nose picking finger. You assume all responsibility for safe use upon receipt.

Damascus pattern and bone grain/color will vary. Like, a lot. It's a surprise every time!

BLADE CARE:
1095 high carbon and Damascus Steel are great at holding an edge, but will rust and stain if not taken care of properly. Please clean and dry your blade after use, and apply a light coat of oil (gun oil, coconut oil, canola...almost any clear oil) in order to protect the blade and add longevity.