Mini Clever with forged SCALES, ROSEWOOD GRIP BY TITAN TC-004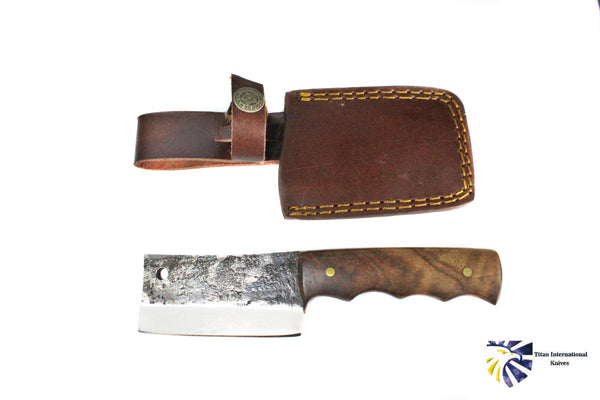 A High Carbon mini Clever with a hefty blade, ready to do some damage!!!
Titan International Knives Carbon Steel utility knife is hand crafted to be functional and not just for looks. The Rosewood handle gives a great grip to it which feels natural when held in the hand. 
The knife is weighted to have a balance point just above the bolster, to better help in hunting Jobs. Remarkable workmanship on this knife!
High Carbon 1080, High Tensile Steel forming over 450+ layers. We oil quench and temper to a hardness of 56-58 Rockwell C. 
Blade size: 4 inch 
Overall size: 8 inch 
Handle material: RoseWood  
Recommended Knife Maintenance: 
Sharpening: Can be performed with any system, recommend the use of oil on 22.5deg fixtures
Surface treatment: Recommend that the knife is not kept in the sheath and in dry environment. In case rust develops, remove with steel wool or 3M 1000 grit pads with oil and use metal polish to prevent from reoccurring.