TITAN AMERICAN EAGLE - Blue Dyed bone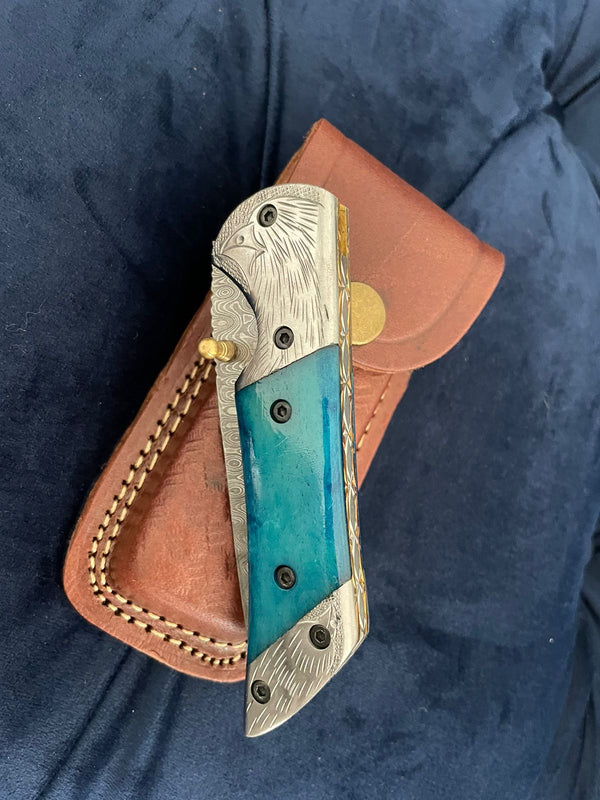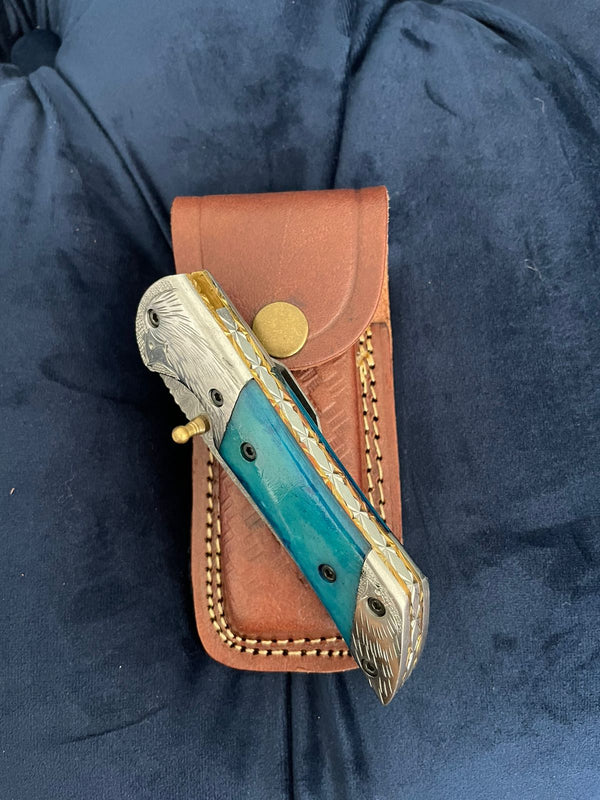 An all around tactical / Utility Folding blade. EDC Knife
The Dyed Bone scales gives the handle a natural feel when held in the hand. The hole features one hand opening and the brass liner Springs in place to lock the blade when fully opened. We carefully machine to make sure there is no play.
Impressive workmanship that will turn heads. Comes with a custom sheath.
Damascus steel hand forged with combinations of 1095 High Carbon and 15N20 Bright Steel form over 288+ layers. We oil quench and temper to a hardness of 57-58 Rockwell C.
SIZE & MEASUREMENTS:
•Overall length is 8"
•Blade length is 4.2"
•Blade thickness is 2.5mm
•Handle material: Bone
【ERGONOMIC & WELL-BALANCED】 8'' and Full Tang blade is hefty and compliments the handle in maintaining balance and helps to alleviate fatigue and pains on your fingers after use with comfort while providing you with the perfect blend of performance and comfort.
【ULTIMATELY DURABLE HANDLE】 The meticulously constructed handle has gone through special treatment, making it extremely impervious to heat, moisture, cold with military-grade strength and life-long sturdiness; multiple times riveted for extra resilience,
【SUPERIOR SHARPNESS】 Ruthlessly sharp edge is handcrafted by seasoned artisans to a mirror polish at 12-15° per side using the traditional 3-step honing method; Nitrogen cooled for ultimate hardness, flexibility, and performance.