Titan Azura Custom knife/ hunting knife/ Carbon steel skinning knife/ camping/ utility knife with Blue Diamond Wood handle.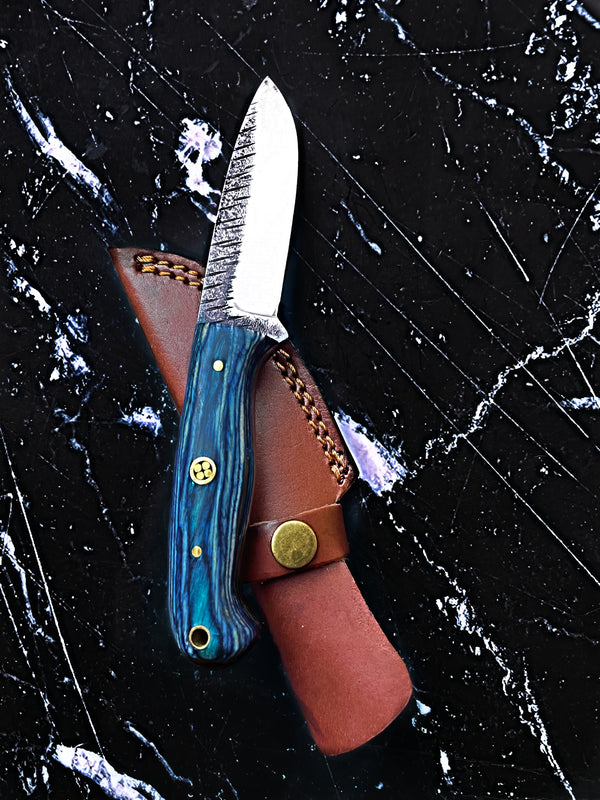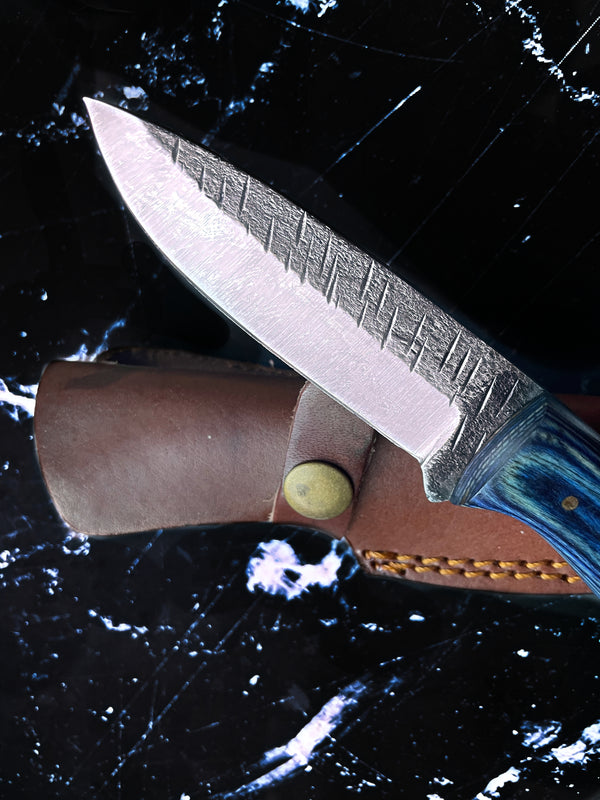 Titan Azura is a classic design with great lines, ergonomics, and usefulness
perfect knife for hunting, skinning or just everyday carry, the scales on the handle are unique to sit in the hand perfectly.
Titan International Knives High Carbon 1080 steel Hunting/utility knife is hand crafted to be functional and not just for looks. This knife holds a great edge and for the handle the Rose wood grip are locked in place with the multiple Brass pins. The handle has a very smooth grip to it which feels natural when held in the hand.
Overall Edge 1080 Carbon Steel has a great retention and Ti blade has been heat treated well, with hardness around 58 RHC.
Blade size: 4 inch
Overall size: 7.8 inch
Handle material: Blue Diamond Wood
Recommended Knife Maintenance:
Sharpening: Can be performed with any system, recommend the use of oil on 18-22 deg fixtures
Surface treatment: Recommend that the knife is not kept in the sheath and in dry environment. In case rust develops, remove with steel wool or 3M 1000 grit pads with oil and use metal polish to prevent from reoccurring.
SHIPPING:
Ships within 1 business day. I use USPS First class Mail for shipping in the USA. Free shipping IN USA ONLY.
International shipments will go USPS First Class unless you upgrade to USPS Priority.
** Custom Import duties may apply**
**Our shipments are packed and sent in perfect condition. If you're concerned about damages while in transit please purchase USPS priority ensuring the safety of your packages. **
RETURN POLICY:
Free returns & exchanges no refunds.
These knives should last your life long!