Damascus Fixed Blade Titan Predator- with serrated back/ Black Resin scales TD-236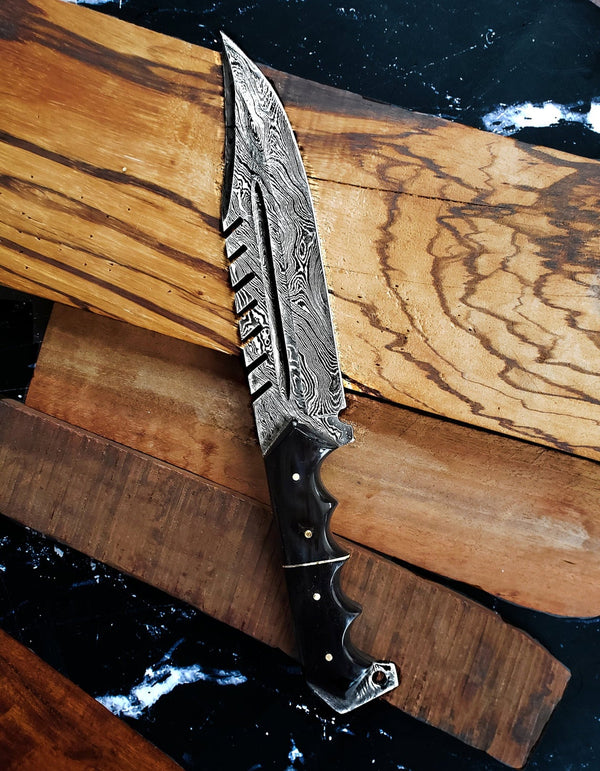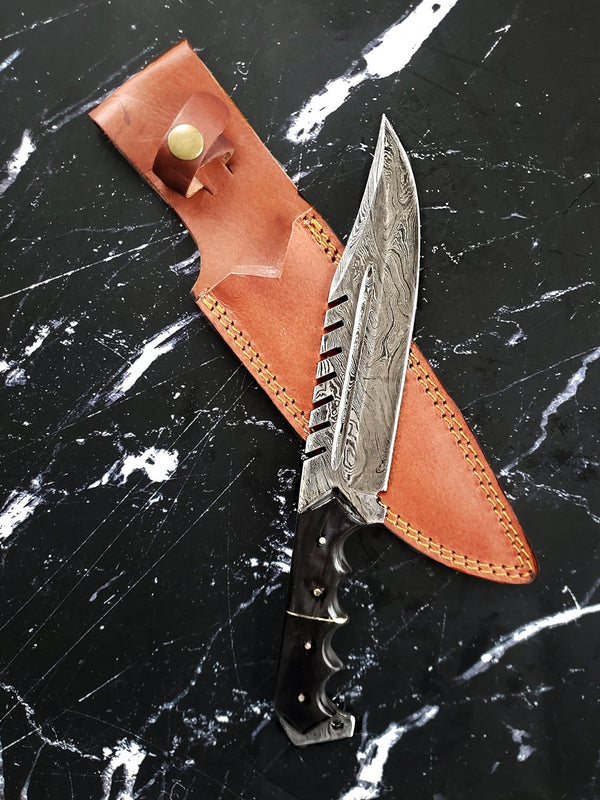 Titan Predator is uniquely design for any outdoor activity, best survival category knife. the grooves in the handle adds more comfort and improves grip plus scales on the handle is Dyed Bone providing a firm grip. Titan Predator is an excellent companion for hefty task. If you like bowie designs, but you're looking for something a little different with more aesthetics , Titan Predator is sure to impress.
Damascus steel hand forged with combinations of 1095 High Carbon and 4340 High Tensile Steel forming over 450+ layers. We oil quench and temper to a hardness of 58-60 Rockwell C. Some of the many damascus steel advantages include the following: Blade edge resistance from the harder steel, micro serrations from the alternating layers, ductility from the HT 4340 layer...
SIZE & MEASUREMENTS:
•Overall length is 11.5"
•Blade length is 6.7"
• Handle material:  Resin Black 
Recommended Knife Maintenance:
Sharpening: Can be performed with any system, recommend the use of oil on 22.5deg fixtures
Surface treatment: Recommend that the knife is not kept in the sheath and in dry environment. In case rust develops, remove with steel wool or 3M 1000 grit pads with oil and use metal polish to prevent from reoccurring.
SHIPPING:
Ships within 1 business day. I use USPS First class Mail for shipping in the USA. Free shipping IN USA ONLY.
International shipments will go USPS First Class unless you upgrade to USPS Priority.
** Custom Import duties may apply**
**Our shipments are packed and sent in perfect condition. If you're concerned about damages while in transit please purchase USPS priority ensuring the safety of your packages. **
RETURN POLICY:
Free returns & exchanges no refunds.
These knives should last your life long!
RESTRICTIONS:
We do not sell knives to anyone under the age of 18. Please check your local legislation about knife restrictions.
Thank you for visiting my shop!